How Much is a Boob Job in Turkey?
What is Breast Augmentation and The Reasons for Performing?
Breast augmentation, also known as boob job or breast implant, has long been the most common cosmetic surgery procedure in the world. Breast implants are implanted in over two million people worldwide every year. And the number of women who have their breasts enlarged grows every year around the world. Despite the recent success of other plastic surgery procedures such as BBL, it seems that breast enlargement will maintain its "leading" spot in the plastic surgery community. Also, boob job in Turkey take the lead for the best medical tourism destination.
Breast augmentation is an operation that alters the appearance, scale, and form of the breasts. Breast implants are often used for one of two reasons:
The aim is to improve the scale, form, and symmetry of the breasts for cosmetic purposes.
Reasons for reconstruction: The aim is to repair the breasts following breast cancer surgery in general.
However, most breast enlargement operations are done for aesthetic purposes.
Breast Augmentation Surgery Cost in Turkey
Since they symbolize femininity and sexuality, the breasts are the most significant aspects of a woman's body. Breasts that are too small can have a negative impact on self-confidence and self-esteem. Many that need larger breasts will benefit from breast enlargement surgery.
Boob job in Turkey is performed for a variety of causes, including underdeveloped breasts, variations in breast proportions, changes following birth, and changes in shape due to breast-feeding. It is also possible to just try to make her breasts seem fuller and larger. As a result, breast enlargement surgery, also known as augmentation mammoplasty or boob job, is one of the most common surgical procedures worldwide. It changes the size and symmetry of the breasts.
Breast enlargement is a procedure that is used to raise the size of tiny breasts or breasts that have not fully grown. Mammoplasty will also restore and enlarge breast volume that has been lost due to breastfeeding or breast-feeding. Breast implants in Turkey may be used for a variety of reasons; for example, following a mastectomy, breast cancer patients may have boob job surgery to repair their breasts, or people with asymmetrical breasts may have a single breast implant to balance the size discrepancies. Silicone breast implants are available to all women above the age of 22 who are looking for cosmetic boob job in Turkey.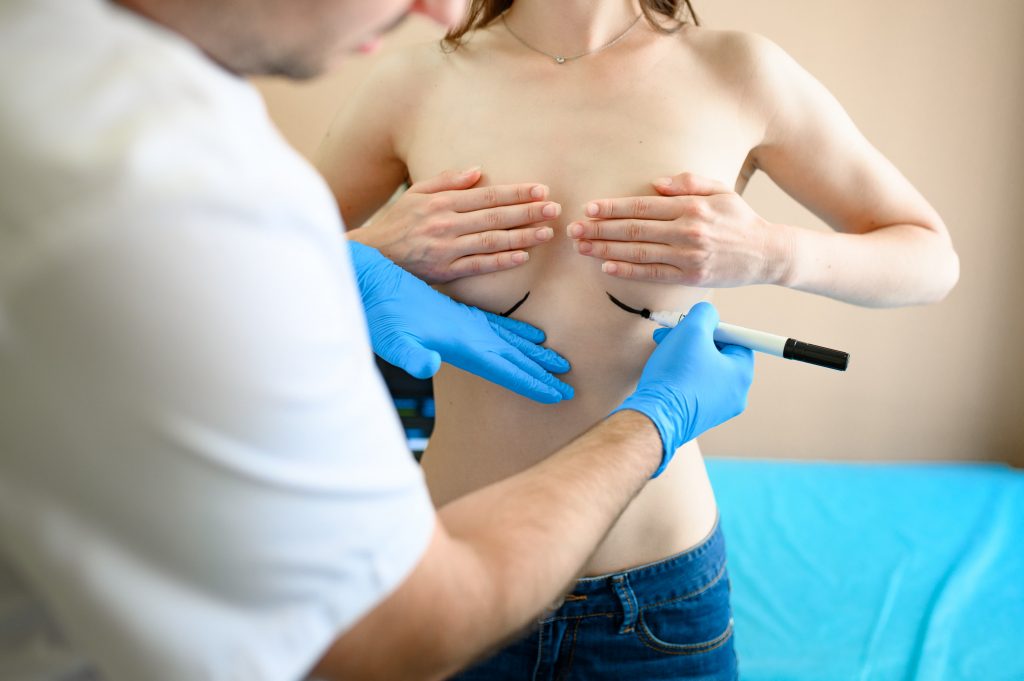 Average, Minimum and Maximum Prices of Boob Job in Turkey
When we look at the average price for breast augmentation in Turkey, it is $3850. These prices will change from region to region, clinic to clinic and the expert of the surgeon is another factor. Our trusted medical centres in Turkey use high quality implants and offer treatments at low costs without compromising the quality.
The minimum price for boob job in Turkey would be $2300, where it is $4800 in the UK and $3400 in the Czech Republic. As you know, the price for these medical procedures or dentistry are very expensive in Europe. If you decide to get your boob done in Turkey, this would be a reasonable choice because Turkey will offer you high quality treatment as well as cheap boob job packages which includes everything you may need. 
The maximum price for breast augmentation in Turkey is $9000. This price is determined by a lot of factors such as other medical fees, salary of surgeon or expertise of the surgeon. You can rely on cheap prices with high quality implants because Turkey is one of the best destinations for medical tourism. You will have a chance to discover the beauties, historical places, different Turkish cuisine, and Turkish culture. This holiday will change your life in a good way.
Why is Turkey Cheaper for Plastic Surgeries?
The correct question is: Why does Turkey deliver such low-cost breast implant surgery?
Let us start with a main point: Turkey's average cost does not always imply that they deliver "cheap" boob jobs. In comparison to the United Kingdom, Turkey promises high-quality breast augmentation treatment at a lower cost. This is due as a natural consequence of the following factors:
Lower labour and operating costs: Turkey's labour and operating costs are far lower than those of the United Kingdom.
The Turkish government's support: Health tourism in Turkey is financially supported by the Turkish government so that medical travel agencies can have inexpensive care alternatives.
The claim that the British pound is high against the Turkish lira: in fact, it is seven times stronger.
As a result, Turkey draws many women per year who wish to get their breasts done at a low cost. This is also beneficial to Turkish plastic surgeons. They not only can deal with patients from many backgrounds, but they also have a large variety of patients, which naturally increases their knowledge and abilities.
In short, if you want a high-quality breast implant operation but do not want to spend a lot on it, Turkey is a good option. And if you do not want to spend any more money, you can get your free personalised boob job package in Turkey from our trusted medical centres.