Top 20 What To Do In Istanbul
Istanbul is one of the most beautiful cities in the world, and there is something for everyone to enjoy. From its rich cultural heritage to its vibrant nightlife, Istanbul has something for everyone. If you are looking for an unforgettable holiday experience, then Istanbul should be at the top of your list. Here are the top 20 things to do in Istanbul:
Visit the Topkapi Palace
The palace is a must-see for visitors to Istanbul. This spectacular palace serves as the primary residence of the Ottoman Sultans, and offers an astounding insight into the fascinating life of Istanbul's rulers.
Take a Cruise Along the Bosphorus
Get up close to the city and its stunning views, with a cruise along Istanbul's Bosphorus. Enjoy the views of the old city, the bridges and the shoreline, and make sure to have a camera ready.
Explore the Hagia Sophia Museum
Visit this former church, now a museum, to see some of the most incredible Ottoman, Byzantine and Gothic works of art in the world.
Visit the Grand Bazaar
With over 4,000 shops, this rollicking bazaar is a shopping paradise. There, you can find everything from carpets to jewelry, clothing and antiques.
Visit the Blue Mosque
The intricate architecture and the mesmerizing interior of the Blue Mosque make it one of Istanbul's greatest attractions. Try to go during the evening, when the twinkling lights from inside make the building look even more beautiful.
Catch a Performance at the Galata Tower
The Galata Tower is one of Istanbul's most iconic landmarks, and it also hosts performances such as whirling dervishes and traditional Turkish music.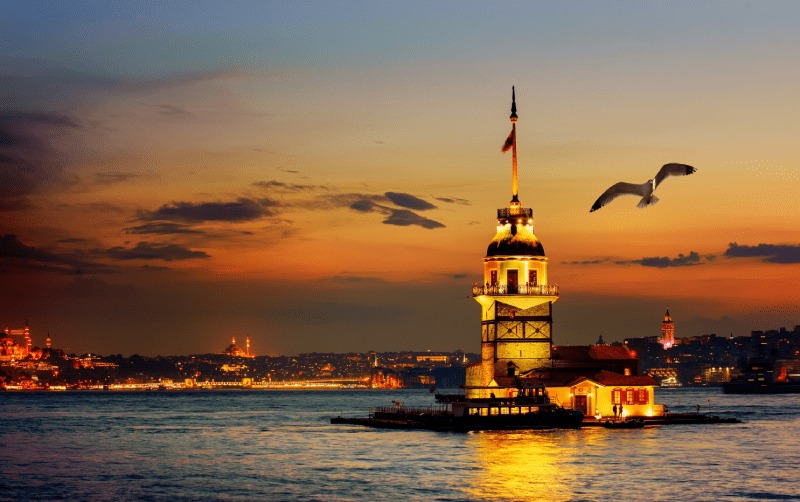 Visit the Basilica Cistern
This gothic underground cistern, located in Istanbul's old city, will take your breath away. Witness the fascinating array of columns and the underground lake and you can't help but be amazed.
Take a Trip to the Princes' Islands
This group of nine islands makes for a great day trip away from the city. Relax on its famous beaches and enjoy some fresh seafood.
Soak in the Taksim Square
This is the city's most vibrant area and its where locals frequent the most. Coming here to people watch will provide you with fascinating insight into Istanbul life.
Have Fun at the Vialand Theme Park
For those traveling with kids, a visit to this theme park is a must. It's got all the usual attractions, plus some great rides for thrill seekers.
Explore the Fener & Balat Neighborhoods
The Jewish and Armenian heritage of Istanbul is apparent in this fascinating neighborhood. Immerse yourself in its colorful streets, intricate churches and stunning mosques.
Enjoy the Ihlamur Pavillion
Built in the late 1700s, this stunning pavilion is located within the lush Ihlamur Valley. It's a popular destination for picnics, and the views of the city are unparalleled.
Shop at the Spice Market
Get a taste of Istanbul's famous spices and dried fruits at this bustling market. Don't forget to taste the baklava, Istanbul's most famous sweet treat.
Have Fun at the Aquarium
This is the largest aquarium in Turkey, and is home to over 200 different species of fish. Make sure to catch one of the amazing synchronized show with the dolphins.
Climb the Galata Bridge
Climb to the top of the historic Galata Bridge, which spans the banks of the Golden Horn. You'll get stunning views of the city and its skyline.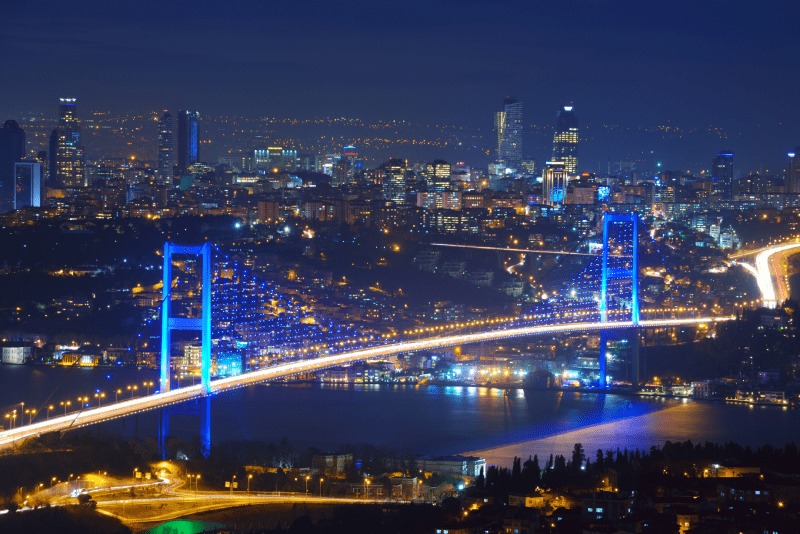 Visit the Dolmabahce Palace
This opulent palace was built during the reign of Sultan Abdulmecid and it is still filled with the air of its former residents. It includes some of Istanbul's most intricate art work.
Enjoy the Istanbul Modern
Head to this modern art museum to get a unique insight into Istanbul's cultural life. It also hosts some amazing events, so make sure to check out the schedule.
Have a Bite at the Fish Markets
There are several fish markets in Istanbul, and these are great place to try out some of Istanbul's freshest seafood. It's worth to venture out to one of these markets to taste some of their delicious fish delicacies.
Check Out the Suleymaniye Mosque
Aside from being Istanbul's largest mosque, this building is also home to some stunning art, including stunning tiles and story-telling calligraphy.
Revisit the City's Roman Heritage
Settled in the 7th century BC, Istanbul has a wealth of Roman sites. Take a day trip to visit a few of these sites and get to know the city's rich and varied history.
Discover a World of High-Quality Medical Care with CureBooking!
Are you seeking high-quality medical treatments at affordable prices? Look no further than CureBooking! At CureBooking, we believe in bringing the best healthcare services from around the globe, right at your fingertips. Our mission is to make premium healthcare accessible, convenient, and affordable for everyone.
What sets CureBooking apart?
Quality:
Our wide network comprises world-renowned doctors, specialists, and medical institutions, ensuring you receive top-tier care every time.
Transparency:
With us, there are no hidden costs or surprise bills. We provide a clear outline of all treatment costs upfront.
Personalization:
Every patient is unique, so every treatment plan should be too. Our specialists design bespoke healthcare plans that cater to your specific needs.
Support:
From the moment you connect with us until your recovery, our team is committed to providing you with seamless, round-the-clock assistance. Whether you're looking for cosmetic surgery, dental procedures, IVF treatments, or hair transplantation, CureBooking can connect you with the best healthcare providers worldwide. Join the CureBooking family today and experience healthcare like never before. Your journey towards better health starts here! For more information contact our dedicated customer service team. We're more than happy to assist you! Start your health journey with CureBooking - your partner in global healthcare.
Gastric Sleeve Turkey
Hair Transplant Turkey
Hollywood Smile Turkey