All on 4 Dental Implants Procedure in Turkey
How is the procedure of getting all on 4 dental implants in Turkey?
It is perfectly natural to lose teeth over time. However, losing all of one's upper or lower teeth creates insecurity, embarrassment when smiling, and discomfort when speaking or eating. This alternative, known as "All-on-4 Dental Implants," is a great way to regain a perfect smile and confidence while also restoring full mouth functionality. In addition, you will have a chance to get your all on four dental treatments in Turkey which is the cheapest place to get all on 4 dental implant procedures safely.
For people of all ages who have lost their whole group of teeth, the all-on-4 implant treatment procedure is a wonderful opportunity. In long-term follow-ups, the majority of patients are pleased with their outcomes. However, as with any medical procedure, you should discuss each move with your dentist, especially to ensure that this is the best choice for your condition. Because each individual is different, personal treatment plans should be arranged accordingly. Our professional dentists applied thousands of dental implants and they are very knowledgeable about the whole procedure, risks etc.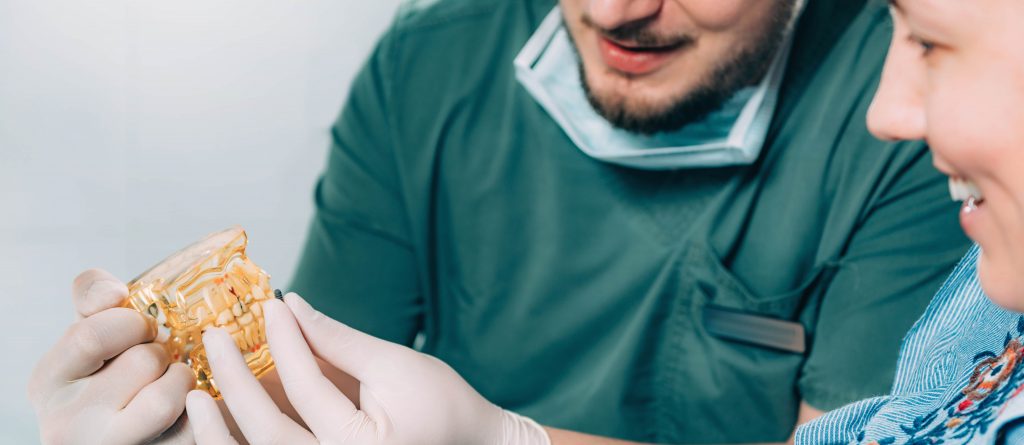 Cheapest All on 4 Dental Implant Procedure in Turkey
In our trusted dental clinics in Turkey will imply the procedure step by step;
Initial discussion: On the first visit, the patient is given a detailed medical examination using cutting-edge diagnostic techniques. The doctor creates an individual care plan based on the information gathered. You and the dentist will decide which treatment option is the best for you.
3D Modeling: 3D modeling with computerized calculations of the implants' optimal placement inside the bone. Professional software allows for precise selection of implant and transition element sizes, while the patient receives a three-dimensional image of the potential care result.
Dental Implantation surgery: Implant surgery is a form of surgery that involves the placement of an implant placement which takes 1-2 hours and is done under local anesthesia. It is possible to combine implantation with tooth extraction (both procedures are performed on the same day).
Picking up the first impression: The abutments, also known as transitional elements, are placed on top of the roots that have already been built. Artificial teeth are held in place by certain components.
Dental Implantation: It is the process of putting something into place. Installing four implants takes around 1-1.5 hours on average depending on the case complexity. A temporary acrylic prosthesis with strong cosmetic properties is quickly loaded onto the implants.
Osseointegration is a term that refers to the process of a person's implant failure. The implants should integrate well with the bone over the period of at least 3 months.
It is a painless process and features stunning aesthetics. You will be able to smile, eat and speak again thanks to All on 4 dental implants abroad at low costs.