How Long Does It Take to See Results After Hair Transplant Treatment?
When do patients see results from a hair transplant?
It will not take long to see results after surgery. However, the time it takes to see results for each patient will vary. First of all, you should know that the hair transplanted in the first two weeks of hair transplant treatments will experience shock loss. Then your hair will grow back. Net results are seen in most patients six to nine months after surgery, while in some patients it takes 12 months.
Medicine can help you keep the results
After hair transplant treatments, you should use the shampoos and creams provided by the clinic where you received the hair transplant. In addition, for best results, your dermatologist may recommend a medication that treats hair loss. The drug helps because hair loss and thinning may continue even after hair transplant. It would be correct to use some drugs for this. Thus, your hair can regain its health faster. Medication can prevent or slow new hair loss and thinning. By doing this, you can maintain your natural-looking results for years.
What should hair transplant look like after 10 days?
On the underside of the transplanted hair follicles in the donor locations as well as the transplanted area, there will be dotted red crusts that are visible for around 7 to 10 days. Usually, within 10 to 15 days of operation, the patient regains his usual appearance. Only a minor redness remains beyond this point.
What happens after 3 months of hair transplant?
The lost hair starts to grow again three to four months following the hair transplant procedure. Your hair will grow 1 cm every month once the first shock loss phase is over. While the hair in the donor areas ought to have totally recovered by now as well. Give your hair a few more weeks to develop if you haven't seen any growth in the recipient area after three months because everyone's hair growth cycle is different. The new hair could seem thin at first due to a lack of strength, but it will thicken over the course of the following few months.
Hair Transplant Before After Photos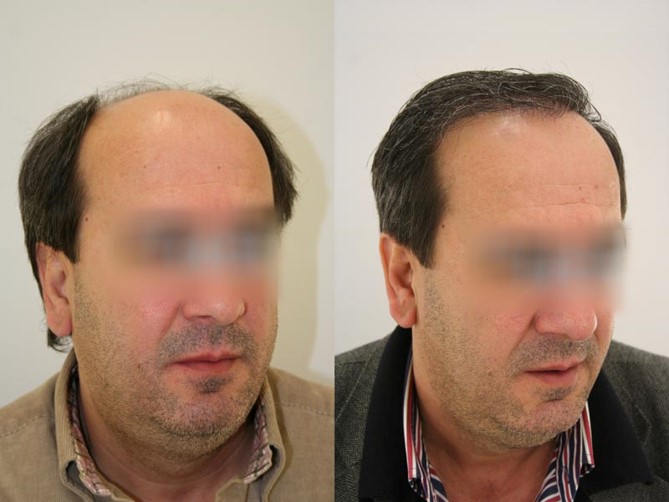 Discover a World of High-Quality Medical Care with CureBooking!
Are you seeking high-quality medical treatments at affordable prices? Look no further than CureBooking! At CureBooking, we believe in bringing the best healthcare services from around the globe, right at your fingertips. Our mission is to make premium healthcare accessible, convenient, and affordable for everyone.
What sets CureBooking apart?
Quality:
Our wide network comprises world-renowned doctors, specialists, and medical institutions, ensuring you receive top-tier care every time.
Transparency:
With us, there are no hidden costs or surprise bills. We provide a clear outline of all treatment costs upfront.
Personalization:
Every patient is unique, so every treatment plan should be too. Our specialists design bespoke healthcare plans that cater to your specific needs.
Support:
From the moment you connect with us until your recovery, our team is committed to providing you with seamless, round-the-clock assistance. Whether you're looking for cosmetic surgery, dental procedures, IVF treatments, or hair transplantation, CureBooking can connect you with the best healthcare providers worldwide. Join the CureBooking family today and experience healthcare like never before. Your journey towards better health starts here! For more information contact our dedicated customer service team. We're more than happy to assist you! Start your health journey with CureBooking - your partner in global healthcare.
Gastric Sleeve Turkey
Hair Transplant Turkey
Hollywood Smile Turkey