Dental Center Turkey Bad Reviews
You can find realistic and detailed information about Dental Center Turkey Bad Reviews by reading our content. Of course, as in every country, there are unsuccessful clinics in Turkey. What you need to do to avoid these clinics is also included in our content.
Why Do People Prefer Turkey?
Turkey is a highly preferred country in terms of health tourism because of the satisfied patients. The satisfaction of patients returning home after treatment in Turkey plays an important role in the development of Turkey's health tourism with each passing day. When quality and successful treatments are combined with affordable prices, and the opportunity to take a vacation is added, Turkey becomes the best country for dental treatments. The bad reviews you read about dental treatments in Turkey are due to the results of patients choosing the wrong clinic. There are some tips that you should pay attention to in order not to have such bad experiences.
Why Is the Dental Treatment Cost Cheap In Turkey?
Turkey is a country with low cost of living. The dollar exchange rate in the country is very high. For this reason, accommodation, transportation and expenses for tourists coming to the country are very affordable compared to their own countries.The number of patients receiving quality treatment at a very affordable price is quite high in Turkey.
5 Tips For Choosing Clinic In Turkey
You should read the social media comments.
It is important that they give a guarantee for your teeth.
The product to be used for the procedure to be applied and its originality are important.
It should not be far below the average prices in the country.
You should do a research about the doctor who will treat you, including their experience.
Dental Center Turkey Reviews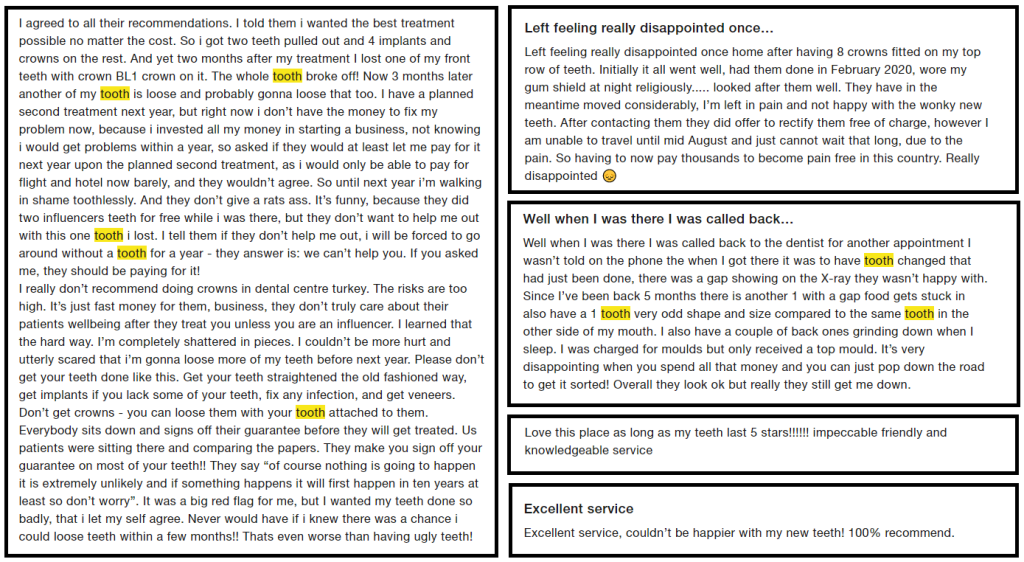 Comments
I agreed to all their recommendations. I told them i wanted the best treatment possible no matter the cost. So i got two teeth pulled out and 4 implants and crowns on the rest. And yet two months after my treatment I lost one ot my front teeth With Crown BLI crown on it. The Whole tooth broke Off! NOW 3 months later another of my tooth is loose and probably gonna loose that too. I have a planned second treatment next year. but right now i don't have the money to tix my problem now, because i invested all my money in starting a business, not knowing i would get problems Within a year, so asked if they would at least let me pay for it next year upon the planned second treatment, as i would only be able to pay for flight and hotel now barely, and they wouldn't agree. So until next year i'm walking in shame toothlessly. And they don't give a rats It's funny, because they did two influencers teeth for free while i was there, but they don't want to help me out with this one tooth lost. I tell them it they don't help me out. i will be forced to go around without a tooth for a year – they answer is: we can't help you. If you asked me, they should be paying for it! I really don't recommend doing crowns in dental centre turkey. The risks are too high. It's just fast money for them, business, they don't truly care about their patients wellbeing after they treat you unless you are an influencer. I learned that the hard way. I'm completely shattered in pieces. I couldn't be more hurt and utterly scared that i'm gonna loose more of my teeth betore next year. Please don't get your teeth done like this. Get your teeth straightened the Old fashioned way, get implants if you lack some of your teeth, fix any infection, and get veneers. Don't get crowns – you can loose them with your tooth attached to them. Everybody sits down and signs Off their guarantee before they will get treated. Us patients were sitting there and comparing the papers. They make you sign off your guarantee on most ot your teeth!! They say "of course nothing is going to happen it is extremely unlikely and if something happens it will first happen in ten years at least so don't worry". It was a big red flag for me, but I wanted my teeth done so badly, that i let my self agree. Never would have if i knew there was a chance i could loose teeth within a few months!! Thats even worse than having ugly teeth!
Comments
Lett feeling really disappointed once…
Left feeling really disappointed once home after having 8 crowns fitted on my top row ot teeth. Initially it all went well, had them done in February 2020, wore my gum shield at night religiously….. looked after them well. They have in the meantime moved considerably, I'm left in pain and not happy With the wonky new
teeth. After contacting them they did offer to rectify them free ot charge, however I am unable to travel until mid August and just cannot wait that long. due to the
pain. so having to now pay thousands to become pain tree in this country. Really disappointed.
Comments
O Well when I was there I was called back… Well when I was there I was called back to the dentist for another appointment I wasn't told on the phone the when I got there it was to have tooth changed that had just been done, there was a gap showing on the X-ray they wasn't happy with. Since I've been back S months there is another With a gap food gets stuck in also have a 1 tooth very odd shape and size compared to the same tooth in the
other side of my mouth. I also have a couple of back ones grinding down when I sleep. I was charged tor moulds but only received a top mould. It's very disappointing when you spend all that money and you can just pop down the road to get it sorted! Overall they look 0k but really they still get me down.
Comments
Love this place as long as my teeth last 5 stars!!!!!! impeccable triendly and knowledgeable service
Comments
Excellent service Excellent service, couldn't be happier with my new teeth! 100% recommend.
I'm Back in My Country My Implant Has Dropped!
Such problems are not common. However, although it is unlikely, when such a situation is encountered, Turkey has clinics that are ready to do their best to prevent the patient from being victimized in every respect.
The clinic you choose will play an important role in this regard. When you return to your country about any dental procedure you have had in Turkey, the problem you experience will be resolved without objection by the clinic you have been treated, and you can use all your rights together with the documents given to you during the treatment. The only reason for this bad review is to be treated with non-original products in clinics whose prices are below the market.
My Teeth Veneers Turned Yellow In 1 Month!
There are some post-treatment care given to the patient after dental veneers, especially a special diet program is given to prevent teeth yellowing for patients who receive veneers. However, if the patients who follow the diet program experience any yellowing problem, it means that the product used is not original, this problem is a problem that can be experienced not only in Turkey but all over the world. The only thing that the patient to be treated needs to do is to ask for the certificates related to the product to be used and to understand that it is original.
Getting Treatment In Turkey Is The Best Decision I've Made!
Being treated at the right clinic in Turkey makes you remember that beautiful experience every time you look in the mirror.The treatment you have received is not only aesthetic in terms of appearance, but also provides a very comfortable use. It is important to choose the right clinic, wherever in the world, in order not to experience tooth sensitivity or tooth infection after treatment.
I Had Laminate Veneer Done In Turkey, I Returned To My Country And The Veneer Fell Off!
You should pay attention to the country market and evaluate the clinics whose prices are far below the market, you should not be treated in these clinics, otherwise you will not have legal rights in any problem you may experience and in addition to the treatment costs you have paid, you may have to pay new costs to be treated again.
"When I Got Back My Bite Was Not Good"
One of the most important factors in the clinic you will be treated is whether you have a cad / cam or not. A clinic's use of cad cam means your teeth will be treated with products of the optimal size. This is equivalent to the quality of the clinic. For this reason, it is important for your teeth to ask the clinic you prefer whether they use cad cam or not.
When Choosing A Clinic, You Should Get Support!
Curebooking is always here to support you, for patients who want to be treated in Turkey but have difficulty finding a clinic or can't decide. You can contact us to get service from the curebooking family, which has helped hundreds of thousands of patients so far.
Curebooking Reviews

Comments
I live in England, one of my veneers that I had done in a clinic in my country fell off, but the clinic did not help me in this situation. I came across curebooking while I was researching for a veneer in Turkey, I got my new veneers at a much less cost than… I paid in England, high quality and successful Thank you for helping me get a cure
Comments
I wanted to have implant treatment for my teeth and had difficulty choosing a country. I found this medical blog site in Turkey, I had both dental veneers and implants for the price of only one implant in my country. Thank you curebooking…
Comments
The coatings I have made in Turkey are great, not only easy to see but
also very comfortable to use. Thank you to curebooking for helping
me get this treatment.. Mr. Emre and his team took great care Of me
and supported me for all my problems. Thank you Turkey…
Comments
When I came to Turkey on holiday, I was in search Of a clinic to whiten
my yellowed teeth. While I was researching in Kusadasi, the prices I
got were a bit high. When I searched on the internet, I came across
the prices Of curebooking and they were very reasonable prices, they
recommended me the coatings. I am glad I accepted, my teeth are
white and have a healthy appearance, thank you curebooking, Mr
Mustafa and Mr. Emre
As curebooking, we aim to give you better quality and affordable treatments. Before choosing a clinic for your dental treatment, you can consult Curebooking, get a price, and ask your questions.
With the Curebooking privilege, your teeth are guaranteed for the treatments you receive, and you can get free treatment for any treatment-related problem, so you don't waste much money.
Why Curebooking?

**Best price guarantee. We always guarantee to give you the best price.
**You will never encounter hidden payments. (Never hidden cost)
**Free Transfers (Airport – Hotel – Airport)
**Our Packages prices including accommodation.